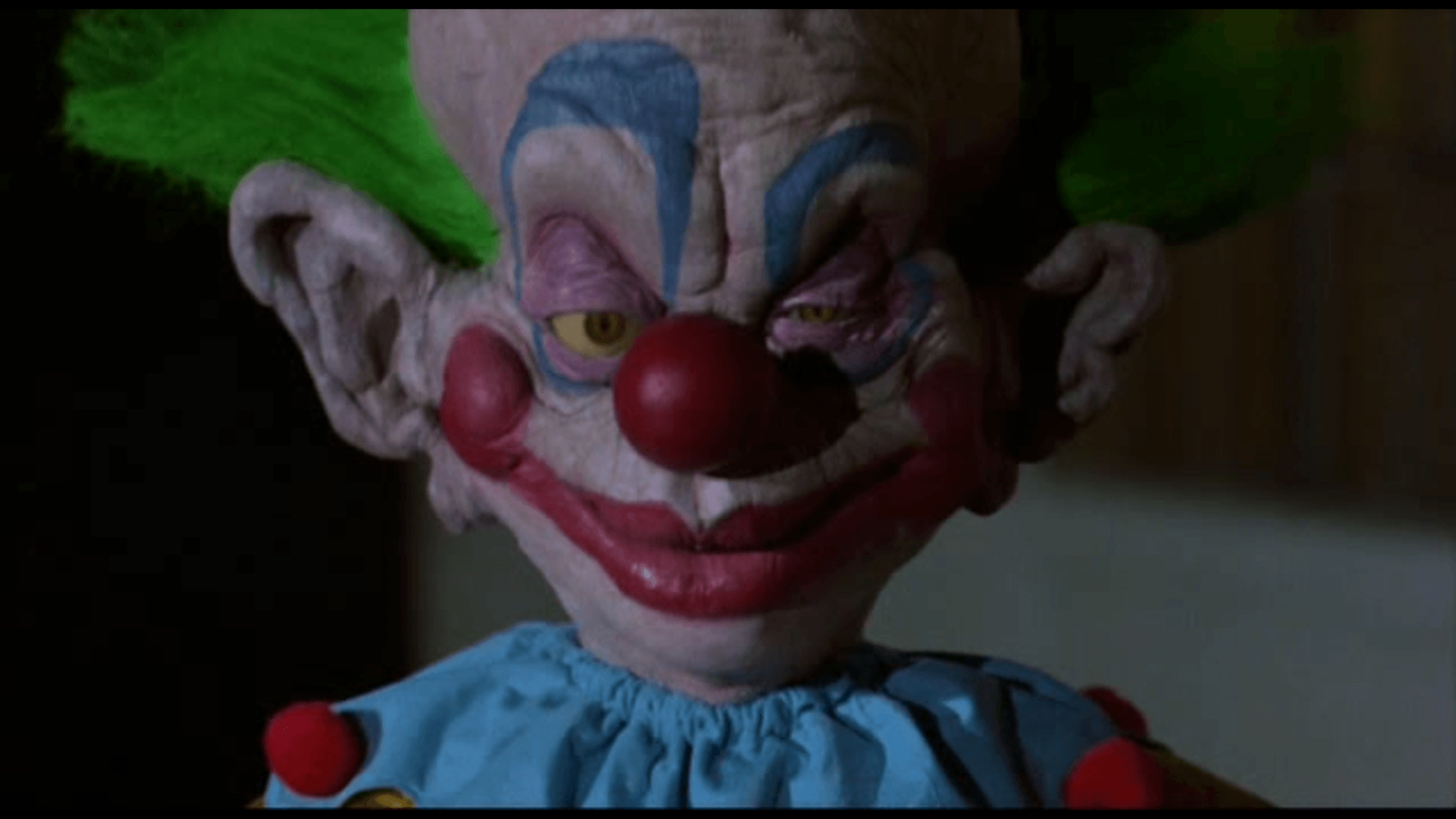 Continuing my shameless binge of schlocky horror is the Chiodo brothers 1988 tongue-in-cheek romp Killer Klowns from Outer Space.
The plot of the movie is…in the title pure and simple. A couple of amorous teens (one of whom is named Mike Tobacco) find a mysterious circus tent with a space-age interior. Of course they are discovered by the inhabitants of the tent/spaceship and chased away with, and I am not making this up, deadly popcorn guns. The couple flees and barely escapes, but they inadvertently lead the Killer Klowns right into their sleepy small town.
Several bizarre murders occur: lethal puppet shows, balloon attack dogs, and cotton candy cocoons make short work of many of the town's inhabitants. To make matters worse, the town's uptight law man Mooney (played by John Vernon) refuses to believe any of the cases, proclaiming it the work of rowdy kids. So it is up to the loving couple and their zany ice-cream-truck-driving friends to save the day and stop the Killer Klowns once and for all!
The most appealing aspect of Klowns is its self-awareness. It knows full well what it is and more importantly, what it is making fun of. It has all the stock characters, the young lovers, the crotchety cop, the wisecracking brothers, and of course the klowns themselves.
While none of them really speak, each clown is its own character, in appearance, behavior, and body language. My personal favorite is the shortest klown, whom I have dubbed Red. He is tiny, fun loving, mischievous and cute in a Garbage Pail Kids sort of way. The twisted rubber masks, and maniacal laughs do little to detract from the childlike charm the klowns convey. By the end of the film you find yourself almost rooting for these ugly little miscreants.
The Chiodo brothers are obviously fans of this genre in order to have made such a delightfully smart and funny commentary on it.